Hello All! My name is Michelle and I'm the new intern at Couture Bridal Co.!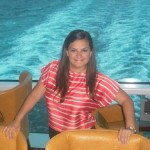 Have you walked past Couture Bridal Shop recently and checked out our beautiful winter-inspired window displays? If yes, then you're in luck, because I'm going to give you all the insider details on what's on display this month!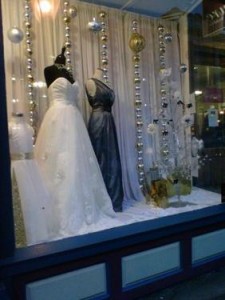 The Flower Girl dress was created by US Angels and is available for purchase. We added the gold sash to keep up with the Holiday theme but it can be purchased with any sash color that you desire! In the middle on this lovely trio is a Maggie Sottero Bridal Gown. This is her Isadora Marie design and can be purchased in Ivory or All White. The dress is gorgeous and features lace motifs and satin petals on the skirt.
Also on display is a Barijay gown that screams New Year's Eve. It is available in various colors like silver, ivory or my personal favorite, Sapphire. Isn't it fabulous?!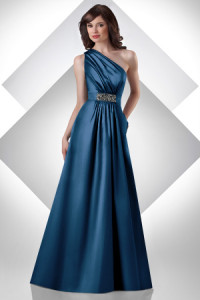 So as you can tell we have pretty much everything for the perfect holiday party or wedding !
Hope to see you soon at Couture Bridal Co.